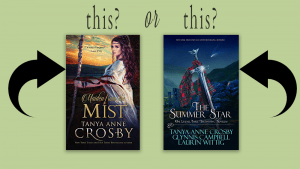 For those of you who are wondering which of these to get, here's the deal: If you follow the Guardians, and you loved The Winter Stone, you want BOTH.
If you don't follow the guardians, and don't care so much about getting the full story, you might be happy just getting The Summer Star.
Maiden from the Mist clocks in about 50k words, so essentially it's a full sized book meant to tie up all the remaining loose ends in the Guardians series. The version you'll get in The Summer Star will be a much shorter version, sans all the series information you'll get in Maiden. I'll be a more seamless integration with my sister authors
Glynnis Campbell
and
Laurin Wittig
.
Maiden from the Mist = Sorcha's full length story, with heavy references to Guardians.
The Summer Star = Sorcha's shortened story, edited to be a more seamless read with two more novellas from two of your favorite authors (and mine too!).